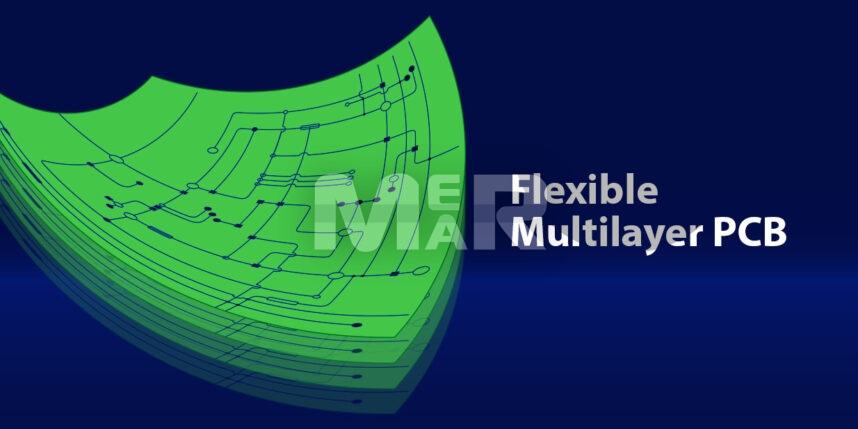 Flexibility is the cornerstone of great design and that is something that is made possible by flexible multilayer PCB.
A flexible printed circuit is a circuit board with a flexible construction. It is also known as a flex circuit. It is used in small electronics. A flex circuit largely consists of two or more copper conductive layers with an insulation material between its layers. There is also an application of coverlay in the flexible areas that can protect the external circuitry of a flexible PCB
Different configurations of flex printed & rigid-flex circuit boards
Flex and rigid flex PCB are available in a wide range of configurations and can be found in different applications. These include:
Single-layer flex printed circuits – Such circuits adhere to IPC 6013, Type 1 standards & have a single copper conductive layer between two insulating layers. These work well in bend-to-fit applications.

Double-sided flex printed circuit – Adhering to IPC 6013, Type 2 standards, these consist of two copper conductive layers with insulating polyimides. Plated through-holes ensure circuit connectivity between the layers. Such circuits work well for dynamic flex as well as bend-to-fit applications.

Multilayer flex printed circuit – Adhering to IPC 6013- Type 3 standards, they have three or more conductive layers with insulating layers in between. They also make use of plated through-holes for ensuring connectivity between layers. They also use high-speed controlled impedance and work well for bend-to-fit applications.

Rigid-flex printed circuit – They adhere to IPC 6013-Type 4 standards. These have two or more copper conductive layers with insulation in between. They also have plated through-holes that cut through the rigid as well as flexible layers. In addition, there is an application of coverlay on the flex layers.
Of these, let us look at multilayer flex circuit boards in greater detail:
YOU MAY ALSO LIKE: 2 Layer VS 4 Layer PCB
Multilayer Flexible Printed Circuit Boards
One can look at multilayer circuits as a combination of several single layer or double layer circuits. Multilayer circuits can in turn come with:
Continuous lamination
Without continuous lamination
The choice of the above depends upon whether you are looking at maximum flexibility in your multilayer PCB designs. For designs that need total flexibility, it is an easy decision that continuous lamination is not suitable. Multilayer flex circuits work particularly well in the following scenarios:
Specified impedance requirements
When you need to eliminate crosstalk
Where there is extreme component density, and more.
In fact, if one were to look at the benefits of multilayer flex printed circuits, these would include:
High circuit density
No need for mechanical connectors
Flexibility in design
Reduction in weight as also size
Ability to function in high operating temperature range
Reduction in wiring mistakes
Improved signal quality
Improved impedance control
In addition, with multilayer flex PCBs you also tend to benefit from:
Reduction in assembly errors. This is because they do not use hand-built wire harnesses and make use of automation in production.
Reduction in assembly time. Because the multilayer PCB assembly doesn't require too much manual labor, both the assembly time & the cost are kept under check.
High applicability. Flexible circuits also offer a lot of design freedom and therefore lend themselves to many applications. They also offer flexibility during installation without losing functionality. Importantly, they lend themselves to high-density component placement which is a great plus in today's times of miniaturization.
Improved airflow. With their designs offering improved airflow, increased product lifecycle is a given. Their compact design also lends itself to better dissipation of heat.
Increased reliability. With fewer interconnections what flexible multilayer printed circuit boards also offer is increased reliability. That they are durable and can withstand elevated temperature conditions is an added advantage.
Because of all these factors & particularly the fact that they lend themselves to small size applications, multilayer flex circuits are so much in vogue. That they can withstand harsh environmental conditions is another advantage as that means that they can be deployed in tough environmental conditions.
It is however important to select the right contract PCB manufacturer that has the requisite experience & expertise with multilayered boards. They are equipped with robust PCB design software as well as industry best practices that ensure you do not have to deal with costly errors later that can lead to product recall and even cost the company's reputation. If you are dealing with mission-critical operations, the use of multilayer flex circuits particularly cannot be overestimated.
Mer-Mar Electronics is an ISO 9001:2015 certified company and ITAR (International Traffic in Arms Regulations) compliant manufacturer that delivers multilayer PCB fabrication services with specialized support, reliable testing, and multi-functional features. In case you have any questions or require more information about PCB assembly and fabrication services, get in touch with us via sales@mermarinc.com or call us on (760) 244-6149.