What is RoHS Compliance and Its Benefits
Today's manufacturers of PCB Assembly have been increasingly contending with, is the rising concerns about the use of hazardous materials as well as the environmental impact that accrues on account of it. It isn't surprising therefore all over the world, new and stringent regulations are being imposed to deal with this growing issue. One such important legislation is to do with the Restriction of Hazardous substances or RoHS compliance.
If you are keen to know what exactly does this compliance entail and importantly what are its benefits, then you are at the right place. Read on for the complete details:
What is RoHS Compliant?
The RoHS compliance is the European union's directive 2022/95/EC that came into effect as of July 1, 2006, to prohibit the use of hazardous substances in electronic production. What it means is that if you sell any electronic products or PCBs in the European Union, you need to adhere to this regulation.
To be RoHS compliant as a manufacturer, the use of the following 6 materials in PCBs and other electronic items, have been restricted.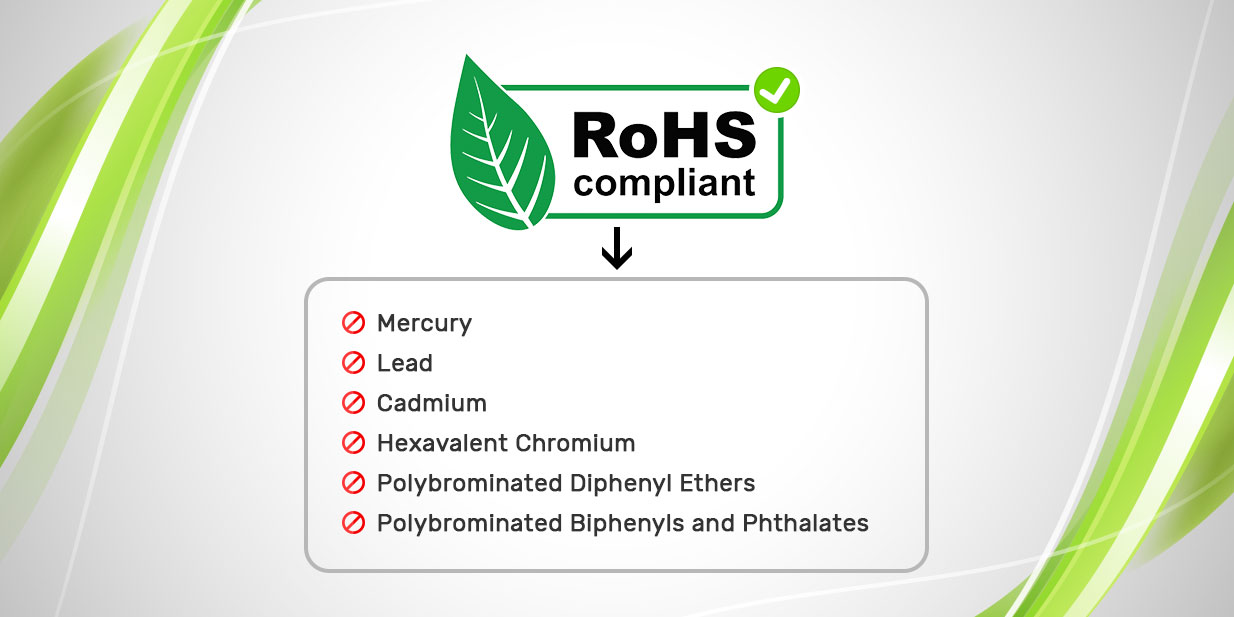 Mercury
Lead
Cadmium
Hexavalent Chromium
Polybrominated Diphenyl Ethers
Polybrominated Biphenyls and Phthalates
The maximum levels of these restricted material are also specified in the regulation. The limits are as below.
Mercury should not be more than 100 ppm
When it comes to Lead, the limit is 1000 ppm
For Cadmium it is 100 ppm
Polybrominated Biphenyls are restricted at 1000 ppm
For Hexavalent Chromium, the limit is again set at 1000 ppm
Polybrominated Diphenyl Ethers are set at 1000 ppm
For Phthalates also the limit is 1000 ppm
When you have a RoHS compliant PCB Assembly, you can offer a whole lot of services that are distinct from others. Some of the main distinguishing features of such a PCB Assembly include:
Lead-free surface finishes
RoHS compliant substrate materials such as S410, Polyclad 370HR. These, in turn, assure standard performance
Primary and secondary services such as lead trimming
Benefits of RoHS Compliance
The important bit, is also to know what are the benefits that accrue from having a RoHS complaint PCB Assembly. Some of these include: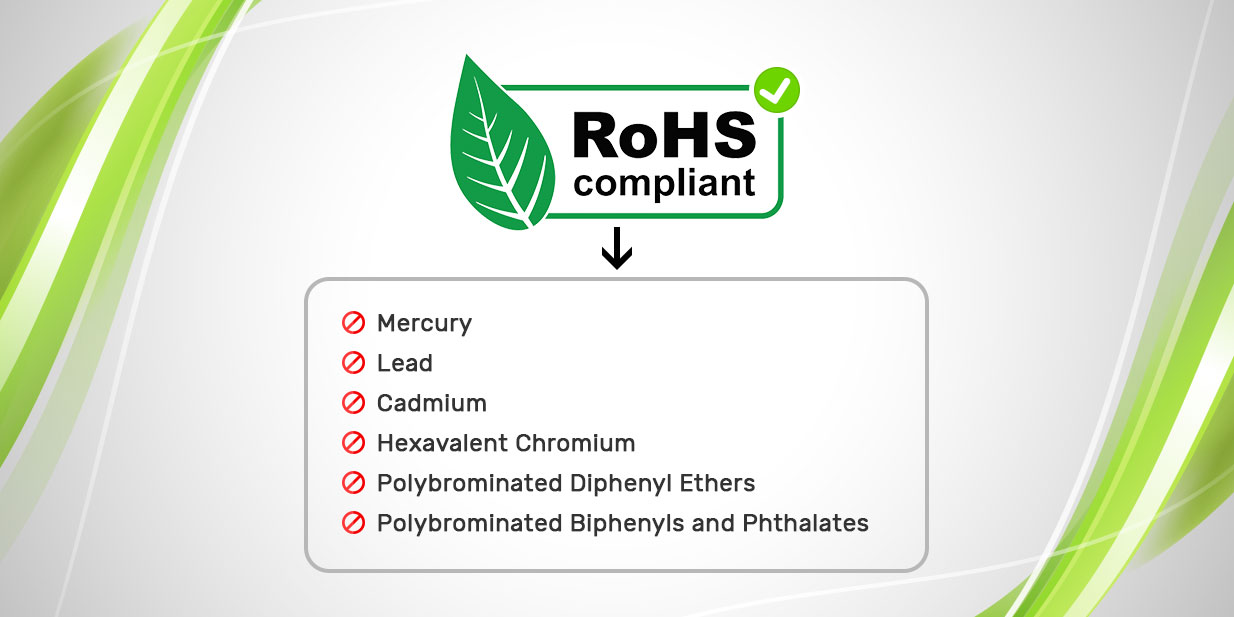 Environmental Impact
The big advantage of a RoHS PCB Assembly, is to do with its environmental impact. With obsolete electronic equipment being thrown in landfills, they have a devastating impact on the environment. With restrictions being put on the use of hazardous substances in case of RoHS compliant assemblies, the impact on the environment is significantly stymied.
Safety for users
Users can now be secure in the knowledge that the product they are using is being manufactured in an RoHS compliant PCB assembly and therefore is lead and mercury free.
Thermal stability
What also follows from lead free PCBs is improved thermal stability. In fact, with halogen free laminates the thermal stability can go up to as much as 300 degree Centigrade.
Improved sales for manufacturers
The improved safety of the product, in turn, also leads to improved sales for the manufacturer. By not complying with the RoHS regulations, on the other hand, you will significantly reduce your customer pool. Not only is RoHS compliance required to sell in the European Union, it is also needed to sell to resellers and distributors who sell in these countries.
In choosing a PCB Assembly Service that is RoHS compliant, you tend to reap the following advantages:
Have a compliance strategy in place for your products
Have a large customer base with the ability to supply to EU countries
Gain customer trust
Contribute to a green environment
At Mermar Electronics, we specialize in providing lead free and RoHS compliant PCB Assembly services. Our high quality lead-free PCBs are manufactured using environmental friendly components. Little surprise then that in the four decades of our existence, we have been the go-to supplier for a wide variety of industries. Our consistent quality and quick turnaround time endear itself to our customers, who look at us as a one stop-shop for all their PCB requirements.
If you have any questions or requirement related to RoHS Compliant PCB assembly, explore our PCB assembly services.
Get a Free Quote for PCB Assembly!
RoHS Compliant FAQs
1. Does RoHS compliant mean lead free?
No. RoHS compliant means prohibit the use of many hazardous substance including lead.
2. Is fr4 RoHS compliant
Yes. FR4 is RoHS compliant.
3. Is stainless steel RoHS compliant
Yes. Stainless steel is RoHS compliant.
Request for Quote