PCB fabrication refers to the process of manufacturing printed circuit boards (PCBs). It involves designing the circuit layout, transferring the design to a copper-clad board, etching away the excess copper, and drilling holes for components. The final product is a printed circuit board that serves as the foundation for electronic circuits. PCB fabrication plays a crucial role in the electronics industry, as it allows for the production of smaller, more reliable, and cost-effective electronic devices.
We are a USA-based PCB PCB fabrication company with more than 40 years of experience in delivering PCB fabrication services. Our team employs advanced and innovative technologies to offer our clients top-notch PCB fabrication solutions.
We are a team of experts specializing in high-end technological PCB fabrication services. Our services include multi-layer PCBs, rigid PCBs, flex PCBs, rigid-flex PCBs, thin/ultra-thin PCBs, high-frequency PCBs, and more. With industry-leading procedures and facilities, we deliver consistent quality, on-time, and on-budget custom PCB fabrication services throughout the USA. Our dedicated team conducts thorough quality checks to ensure our products meet high standards, earning us an outstanding reputation in the market.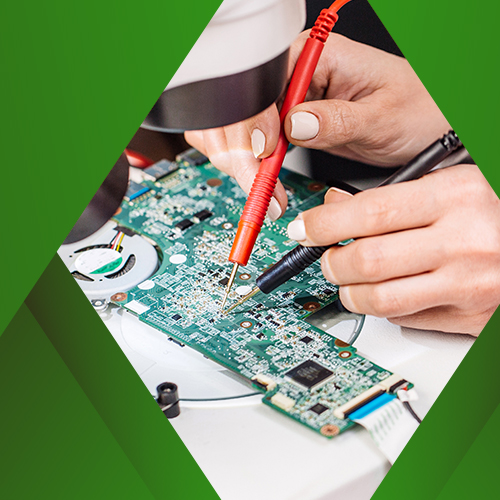 Certifications












What Our Customer Says
"It was a very pleasant experience working with Mermar's representatives. They were prompt and very professional. I look forward to working with them again."
Why Choose Us for PCB Fabrication Services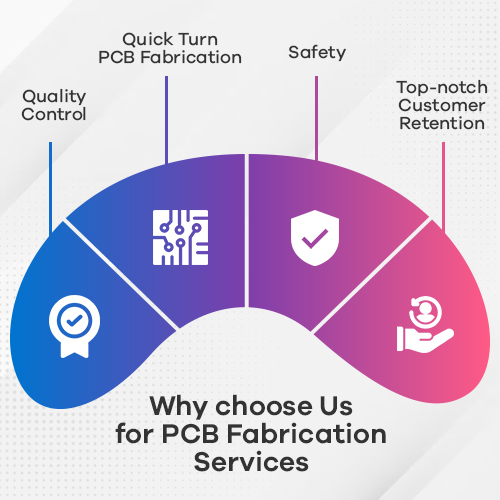 1. Quality Control
Be it ISO 9001:2015 or ISO 13458:2016 quality management systems, we make sure to provide our customers with the highest quality circuit board fabrication. Our multifaceted experts render the best quality PCB services right from layout to final delivery.
2. Quick Turn PCB Fabrication
We provide quick-turn pre-production PCB fabrication and multi-layer fabrication with high-count and dense multilayered PCB services at a faster time-to-market. We have built a very responsive culture to ship larger fabrications of PCB numbers in a short period of time.
3. Safety
Safety and security are primary prerequisites of our printed circuit board fabrication and hence we carry out all the fabrication solutions and assembly processes as per the best industry standards, rules, and guidelines.
4. Top-notch Customer Retention
A full-fledged PCB fabrication right from the product layout, manufacturing, warehousing, and shipping have not just garnered us a global customer base but also an incredible customer retention rate.
– 01
Our PCB Fabrication Services Includes
Aerospace
Automobile
Computers
Consumer Electronics
Industrial
Instrumentation
Medical
Military
Bio-Medical
Telecommunications
– 02
PCB Fabrication Capabilities
| | Supported Capabilities |
| --- | --- |
| PCB Fabrication Methods | Etching, Manual, Photographic, Direct Etch, Silkscreen |
| PCB Fabrication Option | PTH, SMT, Mixed Technology PCB Assembly, Via-IN-Pad Technology, Blind and Buried Via, Lead-free (RoHS) |
| Types of PCB Fabrication | Multi-layer, Flex, and Rigid-Flex, RF PCB fabrication |
| PCB Fabrication Material | Laminate Material, RoHS Material, Metal Core Materials |
| Board Type | Rigid, Flex, Rigid-flex, Multilayer |
| Solder Mask | Green/Green, Matte White, Black/Black, Matte Clear, Blue Top, Bottom Mix, Red, Mix Both Sides |
| Surface Finishes | Silver, Lead Solder Tin, Lead Solder Nickel, Electroless Nickel, Immersion Silver and Tin, ENEPIG PCB Finish, Carbon, Selective Gold Plating, Direct Immersion Gold Finish |
| Others | Same Day and 100% On-time, 100% On-time PCB Fabrication, Controlled Impedance, Quick Turn Times |
– 03
Our PCB Fabrication Technologies
We offer a wide range of fabrication techniques that can help you identify which is most suitable for designing your boards.
1. Imaging
We unravel the magic of transferring your digital PCB design onto the physical board. While many companies go for producing a dry film by inkjet printing the negative of the PCB design and coating the copper board surface with liquid photoresist before subjected to UV light. We can also speed up the process by relying on more expensive equipment to directly apply the pattern to copper coated with photoresist via a UV laser instead of going for the dry film.
2. Etching
To remove the excess metal from a PCB, we use various industrial solvents like cupric chloride, ferric chloride, alkaline ammonia, and ammonium persulfate. We focus on establishing a smooth and uniform surface.
3. Lamination
We offer single-layer laminate, double-sided laminate, and multi-layer laminates. We are aware of the things that can potentially go wrong during the lamination process and are always geared up to modify the designs accordingly. We run a few prototypes runs and depending on the response, we will go for scaling.
As the PCB passes onto the coating and surface finishes, we reserve silkscreen printing for the largest PCB manufacturers. We use etch-resistant inks for protecting the copper foil and put vital information like names, numbers, symbols, parts information, and other elements onto the board.
5. Plating
We offer various plating techniques such as electrolytic, electroless, or plasma/dry plating to ensure we achieve the perfect metal finish for you.
– 04
PCB Fabrication Testing Capabilities
We conduct a bare-boards test where each circuit connection is verified on the finished board. If you have gone for high-volume production or fabrication, make sure the contact with copper holes on one or both sides of the board are available for testing. Through computer-based testing, we conduct electrical testing for sending a small amount of electrical current through each test point If you have small or medium volume PCBs, we recommend flying probe testers for verifying the electrical connectivity of the board. We ensure high-quality PCBs, solder masks over bare copper, hot air solder leveling finish along with Flying Probe Testing.
By conducting electrical testing, we make sure the functionality is working as expected. We perform circuit continuity and isolation tests. We also go for basic electrical reliability testing for checking the integrity of the circuits and to make sure that there are no short circuits on the finished boards.
We also provide boards built to Mil Spec certification standards like MIL-PRF-55110, MIL-PRF-50884, and MIL-PRF-31032. We deploy AI-based quality assurance through AI-driven visual inspection for performing the quality analysis and identify patterns with every test cycle.
We also provide a series of meticulous verification methods for ensuring optimum performance and quality of assembled boards like
PCB Electrical Testing
Automated Optical Inspection (AOI)
In-circuit Testing (ICT)
Functional Testing
Multi-stage Visual Inspection
X-Ray Inspection
Fly-probe Testing
Are you looking for bare board fabrication, circuit board fab, PCB fabrication services for your Next project? Send us inquiry to Get a Quick PCB Fabrication Quote based on your custom requirements.
If you have any queries regarding to our PCB fabrication services or need an urgent assistance, then please don't hesitate to contact our team of skilled personnel's. Send us an email with your queries at sales@mermarinc.com or call us at (760) 244-6149. We are looking forward to hearing from you!